All of the versions of GenieSTAR software now can connect to Facebook for customers to log in and download Facebook photo albums.
Canvas art kiosk software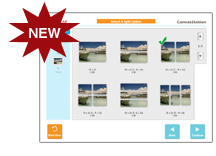 The GenieSTAR CanvasStation Professional allows customers to order canvas prints on a kiosk by choosing either from their own photos or from artworks the store provide. Product options includes canvas roll, stretch and gallery wrap. Find out more details.
photo kiosk software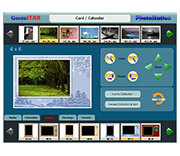 GenieSTAR PhotoStation kiosk software is the right choice for your photo ordering station.
The software can easily be installed in a stand alone kiosk or a personal computer; it is the perfect solution to increase your point of sale capabilities.
Software features include [Print Pictures], [Express Print], [ID Photo], [Write to CD/DVD], and [Card/Border/Calendar]. Click here for more details.
online ordering software
The PhotoStation Home-Server software package includes software for users at home and software for store employees. The Home software allows customers to create orders at home and then place orders via the internet or bring in the order in person to the store. The Server software is an easily accessible management tool for printing orders and storing customer information.
Whether you are operating an independent store or a series of chain stores, PhotoStation Home-Server software can work for you. Here's how it works.
print manager
PhotoStation Print Manager will expedite the previously complicated routine of matching orders with prints and correctly printing the right sizes. The current Print Manager software is designed to assist you in processing and managing customer orders sent from GenieSTAR kiosks and it can be customized to work with your own order format.
GenieSTAR welcomes requests for customizing the software for compatibility with other solutions.